Aug 12, 2020 • 22M
Winning the Culture War Ep. 003 - Creating Great Content
Getting Christians Off the Sidelines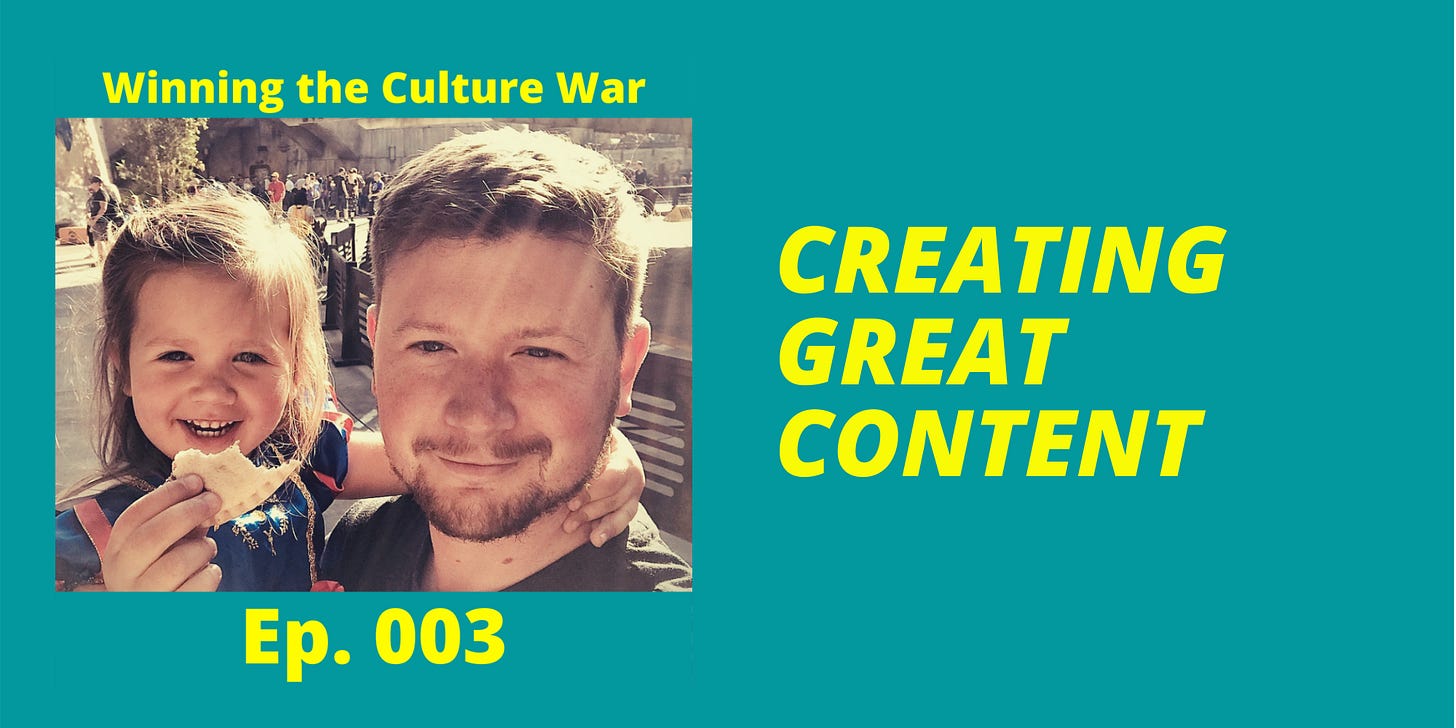 This opening 7-part Mini-Series is entitled: Online Strategies to Change the World.
01 - What Makes a Platform?
02 - Examples of Great Platforms
03 - Creating Great Content
04 - Systems for Audience Growth
05 - Welcome Email Subscribers
06 - Basic Income Strategies
07 - Advanced Income Strategies

TRANSCRIPT

Welcome to Winning the Culture War with Cody Libolt.
This podcast is designed to help you become extraordinarily skilled in communication, especially if you are a Christian and a Culture Warrior. I want you to be a loud advocate of truth in whatever sphere you are able to have an impact.
We're in an opening 7 part series called Online Strategies to Change the World. 
We're looking at how to create a platform, attract an audience, and get paid to make it grow. 
Let's dive right in.

How do you attract an audience for your platform? 
To create an online platform is like planning a feast. But how do you get people to show up? In this episode we're beginning to look at the five main pieces you will need to put in place in order to attract an audience for your platform.
In short, you will need the following five things:
Good Content

Good Systems

Good Networking

Analytics

A Funnel Leading to an Offer
Compared to the previous episode, here we are going into workshop mode. I'll not just explain the concepts but also walk you through the steps for how to design your own platform.
You can go two ways with this presentation. If you'd like to just listen to the material once through, you'll get an idea of what goes into creating a platform. If you're ready to treat it like a workshop, then you could pause the episode and make notes about how to apply these ideas with your own platform as you go through. 

Good Content Solves a Problem that You Personally Care About
Your best marketing move is to make something you want and other people want. It needs to be something people will look for and something people will want to tell others about. If your material is outstanding, you will tend to keep making new committed fans, rather than having people read something and leave and never come back.
As you're probably aware, there are many books about what it takes to write a good book. There are many podcasts and videos about how to make good podcasts and videos. You can find resources to shore up areas you feel you need help in.
For now, here are a couple ideas to get you started thinking about what makes for good content. We're going to focus for a bit on identifying the person your content is for. But there is a step before that that many people skip. To get absolutely clear on what it is that you're trying to do with your platform, you need to look not externally, but internally.
What are the factors that motivated you to start this platform in the first place?

What experience did you have in the past of something that was a major pain point, which you now know how to solve and which you are now offering a solution for?
When you know exactly what your own motivation is for creating this project, then you will know what needs to be included and excluded.
What made you want to do this? What pain point are you solving or helping people avoid? Those answers are the key to understanding your own passion and to getting your project to be what you really want it to be. 

Identify the Person Who Needs Your Solution
You are now ready to identify the person you're creating the content for. Identify the transformation you're creating for them. What problem are you helping them overcome?
Businesses solve problems.
If you want to grow your platform into a business, you will need to be doing that. You may be helping people gain a new skill or understand a new set of ideas. But why? Why do they need that? How is your material solving a problem for them?
The problem could be that people need X outcome externally, such as getting a job or knowing how to raise their kids wisely. Think in terms of practical, visible outcomes. Perhaps your listener is needing motivation and encouragement and you help give them that. Or they are bored and need to be entertained. Identify a problem, and then go about solving it in a way that is tangible.

Being Unique
A lot of people worry that their material will cover ground that has already been tread by others and that their project will not provide something uniquely valuable. But this is not as big a deal as people tend to make it out to be. Your own voice and approach will be exactly what is helpful to some people and not to others.
By nature of being you, you will be unique. As long as you have specific people in mind as your audience, and as long as you focus on benefiting them, your content will be valuable. The key is to identify questions the people in your audience are actually asking, and address those questions. 
You can think of specific people and just ask them what topics they would like to know more about. Or you can imagine what kinds of questions these people might be asking.

Suggested Exercise:
Create a list of 3-4 people you would be glad to have as fans. Then create a short list of 5-8 topics you'd like to address in your first handful of content pieces (blog articles, videos, etc.) in a way that you think those people would find helpful.
Once you've done that, you're through the hardest part!
---
This episode is brought to you in part by the Quick Win Workshop, where you will find Essential Training + A Personalized Roadmap To Grow Your Audience.
Your message matters. 
The Quick Win Workshop is designed to: 
Bring you the knowledge to grow your online platform.

Eliminate common mistakes to help you create a strong foundation in the right order that will take you to true success for getting your message out.
We're so excited about what you're going to get in this workshop. 
It includes:
A personalized, tailor-made roadmap designed to grow your audience.

Self-paced, essential training.

Ongoing access to myself and other subject-area experts.

Membership in a private community of high-achieving practitioners.
The Quick Win Workshop is created to bring you the change you're looking for.
If you already have a big idea, huge passion, and strong commitment, but you're in need of a clear plan created for you with someone who has been there before, this is for you.
You will find each of the specific strategies and tools you need. But you'll get something more: In our complimentary 1-on-1 call, I will personally walk you through the simple steps that almost everyone misses early on and that form the essential foundation for your growth.
To join the Quick Win Workshop, click here.
---
The following steps will help you get into the habit of being a content creator.
Take about 20 minutes and brainstorm a basic plan of attack for each of the following details about how you will approach the task of creating your content pieces.
Get a clear idea of what your brand message is. That will include the following kind of high level decisions:
Decide the project's title

Decide the project's visual identity (logo design, profile pictures, etc.)

Summarize the purpose of the project with a couple introductory sentences for the welcome section or at the beginning of the podcasts or videos.
This last piece is important because it makes it obvious whom the material is for—and why they would want to pay attention. What can you say right at the beginning to clue your potential fan into what he can expect? What promise are you making your reader or viewer?
When you make this promise, that will also help keep you on track about what to deliver. Note: Here, you make the promise in regard to your whole project, but then when you go to create a specific content piece, you should also write out a specific promise for that content-piece. For instance: "This article is for people wanting X. You'll get that in the form of A, B, and C." Make the promise, then deliver your promise. This practice helps assure that you're providing motivation for the reader and that you're staying on topic.
There is a lot more to know about how to create good content. Most of it goes outside of what we'll cover in this training. You can benefit from doing Google searches related to how to create good content. If you're looking for inspiration, you can search "How to pick great topics for my writing," etc.
Google and YouTube are also helpful for learning practical skills related to production values, such as best practices for:
Article formatting

Use of images

Audio quality

Voice quality and delivery

Video lighting

Video presence and delivery

Video editing
Those topics go beyond our scope here, you will not have difficulty finding quality information about them. 
---
A Call To Action:
Too many churches in America are lacking in discernment.
Do you find yourself wishing you could help?
Do you have a love for the Bible? And a desire to write to edify the church?
I hear every day from people who want to make a difference but don't know how to get started. To answer this need, I created Writers Write: The 5-Day Challenge.
This mini-course will jumpstart your goals by showing you how to write and communicate in a way that will have people saying "I care about that."
Right now our listeners can get Writers Write: The 5-Day Challenge at a special 25% discount.
Get your message in front of people who will actually read it.
Don't miss out on this special deal.
Go to ChristianIntellectual.com/writers to get your 25% discount today.
---
Let's move on to the next major piece of the puzzle:

Good Systems
In the previous step you conceptualized what your content is going to be about, overall.
In this step you're establishing your systems. You're deciding what you will need to do each week to get new content created. In this step, write out a short description of how you plan to go about creating regular content. This is your Content Creation Plan. 
For your Content Creation Plan I recommend including at least these four things:
A Topic Idea File

A Publication Schedule

Content Templates

Workflow Documentation
-
Let's look at each of these in a bit of detail:

1 - A Topic Idea File: This is a document or folder collecting various content topics as you think of them. You might do a brainstorm to collect 5-8 ideas to start off with. Later, as you think of new ideas, you will have a way to quickly collect them. 
It is helpful if you can frame your topics in terms of solving some problem for your reader. You start with some question, concern, or desire of the reader and speak directly to them. 
People are interested to know what they will gain from your content. Make sure it is obvious right away from the title and the opening of the material that people will be getting something. You might open by saying, "How to get X…" or "If you want X, this episode/article will show you how." 
As you come up with topic ideas, be on the look out for ways to solve your reader's main problems. What concerns are on their mind, as relates to the overall set of topics you have chosen to orient your platform around? 
Do not be afraid of making material that is too basic or introductory. People at various levels of learning can all benefit from (and enjoy) a presentation that breaks down a complex topic and provides a framework for understanding it.

2 - A Publication Schedule
This is a list of content pieces listed by the day that you intend to publish them, at least a few weeks in advance. 
It could be 5-10 content pieces loosely planned out in batches. When you have a written publication schedule, this keeps you clear about what to do each week. This way you won't waste time second-guessing about your choices for topics. You just plan the topic in batches, and when the time comes, you deliver your best on the assigned topic.

3 - Content Templates
If you're doing a podcast or a video channel, you may want to write out your welcome blurb and what you're going to say to remind people to subscribe or do any calls to action. For whichever format you're using (video, podcast, or articles), you may want to line out some ideas about how given content pieces will typically flow. For instance, you might use one of the following common frameworks for sequencing the material: 
Intro - Point 1 - Point 2 - Point 3 - Conclusion

Introduction, Relevant Story or Background, Main Content, Call-To-Action

Hook - Book - Look - Took

Ray Edwards' PASTOR Framework - Problem, Amplify, Solution, Transformation, Testimony, Offer, Response

Don Millers StoryBrand Framework - A character with a problem meets a guide who understands their fear and gives them a plan that calls them to action leading either to failure or success, with a transformation in identity.

4 - Workflow Documentation
Write out the workflow for the total creation process.
For creating articles, this will include drafting the content, editing, spell checking, publishing, keeping an archive of all content, and posting it on social media. 
If you are creating a recording, the Workflow Documentation could include creating an outline, rehearsing, preparing with any other people involved, recording, editing, uploading, creating graphics or thumbnails, publishing, keeping an archive of all episodes, and promoting the episode on social media.
---
Now that you've put together the four documents described above, these four documents make up your Content Creation Plan.
To review, your Content Creation Plan includes:
A Topic Idea File

A Publication Schedule

Content Templates

Workflow Documentation
You can put these four documents in a single "Content Creation Plan" folder for easy access. Later, you might add other files to the folder.

What Else? 
You're ready to look at the next aspect of how to grow an audience: Good networking. That's coming up in the next episode.
That is a wrap on this one episode. If you're looking for personal input on your project, please email me at Cody@CodyLibolt.com. I would love to talk with you.
Thanks for listening today.
God Bless.
---
Personal Mentoring with Cody Libolt
Discover the skills and up-to-date best practices to grow your audience in a way that creates income this month.
If you would like to set up a 20-minute call to share your goals and see if the program could be a good fit for you, click here.