Aug 12, 2020 • 19M
Winning the Culture War Ep. 005 - Welcome Email Subscribers
Getting Christians Off the Sidelines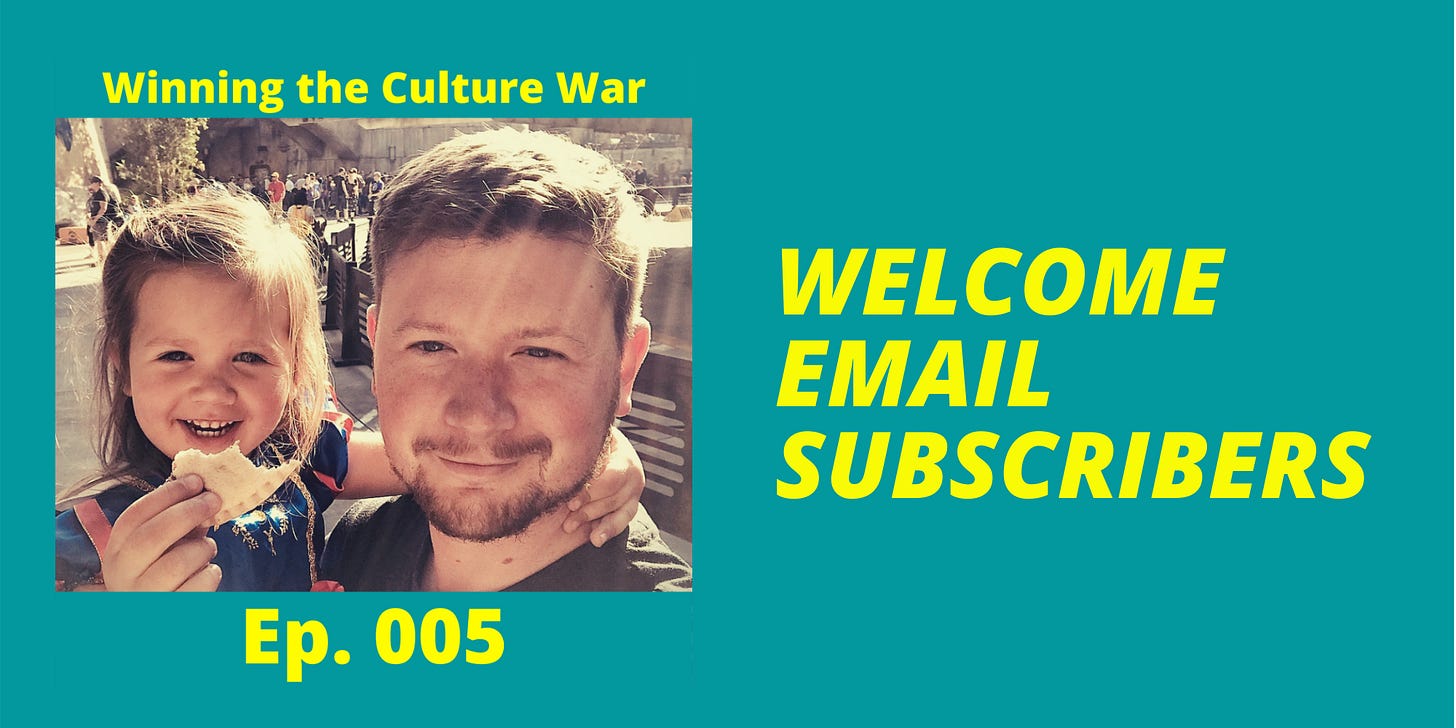 The opening 7-part Mini-Series is entitled: Online Strategies to Change the World.
01 - What Makes a Platform?
02 - Examples of Great Platforms
03 - Creating Great Content
04 - Systems for Audience Growth
05 - Welcome Email Subscribers
06 - Basic Income Strategies
07 - Advanced Income Strategies

TRANSCRIPT

Welcome to Winning the Culture War with Cody Libolt.
This podcast is designed to help you become extraordinarily skilled in communication, especially if you are a Christian and a Culture Warrior. I want you to be a loud advocate of truth in whatever sphere you are able to have an impact.
We're in an opening 7-part mini-series called Online Strategies to Change the World. 
We're looking at how to create a platform, attract an audience, and get paid to make it grow. 
Let's dive right in.

Our topic: How do you make income with a platform?
Now that you have a clear understanding of what a platform is and how to attract an audience to it, we're ready to begin to confront the question of income. 
It is possible to create great material free of charge and to grow an audience for it without spending much money or any money. But, typically, if you are wanting to make a great impact, you will need to have a great quality of content and a large audience, and you can achieve those things more quickly if you are earning income from your project. 
Income from your project can mean you will have access to better tools, higher production values, and expert help from other people. Income can allow you to free up time you would have needed to spend on other tasks. At the most basic level, a bit of side income can cover some expenses that go with having a platform, such as website hosting, email marketing software, or some design work.
Income can make it practical to be able to hire a babysitter or a house cleaner, or to afford alternate food options so you do not need to cook dinner each night of the week. These things can free up some of your time, allowing you to spend more time each week focusing on your creative project. 
Eventually, income from an online project can grow to the point at which you begin to pivot partly or all the way out of some other career and begin to devote your career to getting a specific message to the world. 
Those are some of the exciting things made possible by income. What would be possible for you, if you had significant income from you creative project? What doors would that open? 
Now let's talk about how to make that happen. You're going to need to put a system in place to grow your audience (especially your email list), and to earn income from this.
In the remainder of this mini-series, we're going to cover the seven steps to growing your email list and the five ways to earn income from that email list.

Here are the seven steps to growing your email list:
1. Design your offer.
2. Create a lead magnet that relates to your offer and has a call-to-action to that offer.
3. Create onboarding emails to deliver the lead magnet and to (again) tell people about your offer.
4. Create a place online where people can sign up to get your lead magnet. 
5. Link to the lead magnet on your social media bios.
6. Enlist the help of other content creators to get that lead magnet to more people.
7. Optionally, run pay-per-click ads to your lead magnet. 
---
Let's look at each of these steps in a bit of detail (enough to get the overall idea).

Step 1: Design your offer.
Your funnel is designed to grow your audience and lead that audience to your offer. If you want to create a cohesive experience, you should design your offer before you design the rest of your funnel. 
Only after your offer is clear in your mind should you then create a lead magnet that attracts people. The lead magnet will provide a basic introduction to the same kind of transformation provided by your main offer, and it will invite people to explore the main offer. 
But what is your offer? Deciding on your this can be one of the most challenging aspects of creating a platform, because it is somewhat of a commitment. You're deciding to go public. You're telling people that you will do business with them and provide transformation X, at price Y, by means of product Z. That is a lot of detail, and it needs to be something you can define and announce to the world.
---
This episode is brought to you in part by the Quick Win Workshop, where you will find Essential Training + A Personalized Roadmap To Grow Your Audience.
Your message matters. 
The Quick Win Workshop is designed to:
Bring you the knowledge to grow your online platform.

Eliminate common mistakes to help you create a strong foundation in the right order that will take you to true success for getting your message out.
We're so excited about what you're going to get in this workshop.
It includes:
A personalized, tailor-made roadmap designed to grow your audience.

Self-paced, essential training.

Ongoing access to myself and other subject-area experts.

Membership in a private community of high-achieving practitioners.
The Quick Win Workshop is created to bring you the change you're looking for.
If you already have a big idea, huge passion, and strong commitment, but you're in need of a clear plan created for you with someone who has been there before, this is for you.
You will find each of the specific strategies and tools you need. But you'll get something more: In our complimentary 1-on-1 call, I will personally walk you through the simple steps that almost everyone misses early on and that form the essential foundation for your growth.
To join the Quick Win Workshop, click here.
---
We're looking at how to design your offer.
If you recall, in the previous episode we looked at a set of offers found right in the introductory email when you join an author's newsletter.
At the bottom of the email you might see an invitation to get:
A Miniature Course

Live and Remote Speaking

One-on-One Coaching
The onboarding email should list these offers and link to them. Don't show the specific prices within the email itself. If you click over to the course, you should see the current price. If you email the author, you can ask about pricing for speaking. The price for speaking would change depending on what kind of speaking engagement it is and whether travel would be involved. Similarly, the one-on-one work would vary in pricing. 
The author already knows and has written down his current price ranges for these offers based on varying levels of work he can do. In order to get clear on your offer, I suggest writing down what you plan to deliver and what price (or price range) it will be. 
When you're offering to do professional speaking, don't be afraid to charge high. If you're working with a group that needs a high quality speaker, they will understand that this comes at a premium price. In fact, if you offer a price too low, they might decide to hire someone else, because they are looking for a speaker who is valued at a high price point. Keep in mind that professional speaking requires a high time commitment. You will need to prepare material specifically for that audience, practice it, and then perform the speech, and you will also likely need to travel and pay for lodging. Don't forget to factor in the time it takes to recover and get resettled once you return home.
We will go into more detail about possible offers in the next section. Here, our purpose is to give an overview of your total funnel, so let's look at the next thing you'll need to create within your funnel, after you have designed your offer. 

Step 2: Create a lead magnet that relates to your offer and has a call-to-action to that offer.
This is the next step in creating your funnel. A lead magnet can be as simple as a 1-page PDF checklist or as elaborate as a free video training series. 
A lead magnet needs to be something that people with no background knowledge of you might see and decided to click on. That means it needs to be "crunchy." It needs to be appealing. It needs to offer some kind of quick win or transformation. For example: "Here's how to demystify this!" or "Here's the simple solution to this problem!"
Make it something that doesn't require much of a time-commitment from the user. People are not likely to download an 80-page free guide and read the whole thing, much less a 200-page book. What people want is usually just one or two pages answering one question.
Make sure that you're showing how to fix a problem that is fixable. That way, when the user gets that lead magnet, they will see the answer to the problem and experience a quick win. Then the user will start to believe that you know what you are talking about and that you may have more valuable information for them.
Make your lead magnet a quickwin! Give the user a checklist. Give them a bit of clarity. And then make sure that right away, within the lead magnet itself, you call the user to some other action related to buying your product. The point of the lead magnet is that a user gives you their email and permission to market to them; so why not market to them right on the back page of the PDF?
For instance, at the end of your free PDF you could say:
"Click here if you'd like to schedule a clarity call with me. We'll get on the phone and talk about how to achieve your goal."
Or…
"Click here and you can buy the full course."
Note: Attract.io is a good, free tool for creating a lead magnet of this kind. It has templates to give you ideas, and it is very easy to use.

Step 3: Create a short series of onboarding emails to deliver the lead magnet and to again tell people about your offer.
Your lead magnet introduces people to your offer. But what if someone downloads the lead magnet and never opens it? Or what if they read through it and decide to think about it but not take immediate action? Good news: That person is now on your email list, and they are a likely prospect for your offer. They have very recently shown that they are interested in your topic, and they have given you permission to contact them. 
For these reasons, it is a good practice to send a new subscriber valuable onboarding emails that provide more material relevant to the same topic addressed in your lead magnet. You get a second chance at making your offer in these onboarding emails.
Here's what to do:
Make sure your first onboarding email prominently features your offer. Right in the wording of the automated email that delivers the lead magnet you should actually mention and emphasize your offer. For instance, have a prominent message at the top of the email that says:
"Hey, go ahead and click here if you'd like to get the full deal."
Then, below that, smaller, include a link to the promised lead magnet.
The emphasis needs to be on the offer right away. That's how you get the people to the offer. And that's how you make it worth the investment of time and energy that it's going to take to create this whole funnel and drive traffic to it.
Then schedule additional onboarding email in a short welcome series.
You can do this in a way that does not feel pushy. In the author/speaker example we looked at earlier, we saw how to do this. Create an onboarding email series with some quick training. The training should be short, but insightful and highly valuable. At the bottom of most of these emails give the reader the chance to go further in some way with a paid service. 
Your email onboarding series needs to demonstrate that you're a good teacher, that you can provide high value, that you understand your subject, and that you are interested in doing business with people.
---
A Call To Action:
Too many churches in America are lacking in discernment.
Do you find yourself wishing you could help?
Do you have a love for the Bible? And a desire to write to edify the church?
I hear every day from people who want to make a difference but don't know how to get started. To answer this need, I created Writers Write: The 5-Day Challenge.
This mini-course will jumpstart your goals by showing you how to write and communicate in a way that will have people saying "I care about that."
Right now, listeners can get Writers Write: The 5-Day Challenge at a special 25% discount.
Get your message in front of people who will actually read it.
Don't miss out on this special deal.
Go to ChristianIntellectual.com/writers to get your 25% discount today.
---
We're looking at the steps to create your funnel.

Step 4: Create a place online where people can sign up to get your lead magnet. 
If you already have a website, this is where you should set up a place for people to input their email address and receive an email with your lead magnet. Make your email capture form easy to find. Put it prominently above the fold on your website (at the top before the person has to scroll). And consider using an exit-intent pop-up.
If you don't have a website yet, I suggest creating a simple one-page site using the free tool Welcome.ly. The tool is designed to let you easily make an attractive website site that tells people a bit about you and that offers them a lead magnet. 
When you visit Welcome.ly you'll see samples of how they set up the sites. You can also see one I designed for AD Robles by visiting adrobles.com. If you follow the opt in process there, you'll see how simple it is to deliver some value and grow your email list. 
Having a website in itself will not bring you many new email subscribers unless you are sending a lot of people to that site with the intention of downloading your lead magnet. That's why the next three steps are important.

Step 5: Link to the lead magnet on your social media bios.
Make it easy for someone who encounters you on social media to understand how they can join your email list. 
Your Twitter and Facebook bios and/or your pinned posts can mention the lead magnet and give people the link to your website. Also consider creating an email footer that mentions your lead magnet to anyone you contact via email.
You can create simple graphics that advertise the lead magnet via occasional social media posts.
Finally, you might find it helpful to simply make a direct appeal from time to time: Post something saying, "If you're enjoying my posts, here's how to get email updates: (link)." 

Step 6: Enlist the help of other content creators to get that lead magnet to more people.
One of the benefits of growing a network of other content creators is that you can ask them to help you promote your lead magnet. If you have a friend with an email list, they could write a quick email letting their fans know about the lead magnet. This is a win-win, because the lead magnet benefits their audience, and some of their fans will likely join your email list.
You might consider offering a reciprocal arrangement in which you and a friend each do one promotion of the other's lead magnet. You also might write a guest article for someone in exchange for the permission to add a link to your lead magnet within your post. This is called a content upgrade. You can google that term to get tips on how to create one.
Having a lead magnet also makes it easier to build your audience through doing interview appearances on podcasts or video channels. Typically, your interviewer will let you share where people can find you online. That is the time to give people your web address and let them know about your lead magnet.
Appearing on other people's platforms is an important practice for many reasons.
It establishes your credibility.

It lets you reach a new audience.

It helps you grow your email list.

It solidifies the connections and friendships you make as you are growing your personal network, which tends to lead to more opportunities of a greater variety over time.
Appearing on other people's platforms can create a snowball effect. When people see that you do well in interviews, you are likely to get invited to more interviews, creating momentum. One extra perk of appearing as a guest is that it will be less work for you. The host will take care of the secondary work such as uploading the files and promoting the material.

Step 7: Optionally, run pay-per-click ads to your lead magnet. 
If you're at the beginning of your project, I don't recommend this, because this option spends money to grow your audience.
While everything else within this training has involved tools that are free or low cost, this is the place to mention paid traffic strategies. You could do this from a Facebook Fan page. Or you could run Google ads or Twitter ads. You have the option to boost your content with paid ads. Don't put ads in place right away. But you do eventually have this as an option. 
The easiest way to learn about running ads to set one up for a small budget and test out the process. You could run $20 or $50 worth of ads to gain new Facebook fans or to point people to some of your best content.
If you're going to point people to one thing, point them to you lead magnet. This way the ad spend is going to be buying you something that you get as a persistent asset: people on your email list. The principle is: If you're going to spend money on getting your material in front of people, then make sure that it is turning those people into long term connections (Facebook fans or email subscribers).
Here is some important advice:
Don't run ads until you have a system in place for recuperating the cost. You already need to have a funnel built and you already need to have made some sales from organic traffic or from manually contacting people. That way you've verified that people will respond to your offer. Then you can have confidence that your investment will bring a return. Build a working system (here, "working" means "making money") before you spend money to accelerate that system.
That brings this episode to a close. As always, if you're looking for personal input on your project, please email me at Cody@CodyLibolt.com. I would love to talk with you.
Thanks for listening today.
God Bless.
---
Personal Mentoring with Cody Libolt
Discover the skills and up-to-date best practices to grow your audience in a way that creates income this month.
If you would like to set up a 20-minute call to share your goals and see if the program could be a good fit for you, click here.